Tips for Planting a Great-Looking, Drought Tolerant Landscape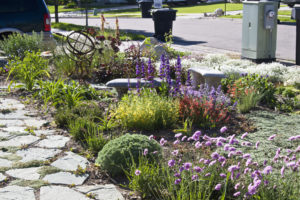 Drought Tolerant Landscaping used to be a hard sell, but times have definitely changed. Where clients used to want green (and plenty of it), lawns required an abundance of thirsty trees and grass. While that attitude is still prevalent in some places, California landscapers are now turning to drought-tolerant plants to cut costs and save natural resources. Here is a roundup of the top drought-resistant trees and shrubs for the state of California as well as some tips to help homeowners make the right choices.
Before we get into the specifics make sure you take a moment to download the Free Consumer's Guide to Lawn Care in Orange County so you have all the details you need to make an informed landscaping and lawn care decision.
Download The Guide Now
Planting in the Front Yard
There are some basic things to consider when choosing plantings for a front lawn. A Lawn Maintenance professional can help a homeowner choose plants that are more compact to make the yard feel tidier. Deciduous and evergreen pants look great year round, even in the dry season. Customers should consider plants with varied textures and colors, and they should pick plants that reflect the home's architecture.
Trees
Redbud trees are low water consumers, yet they produce brilliant blossoms in the springtime.
Tabebuia varieties are sometimes referred to as golden or pink trumpet trees because of the shape of their blossoms.
Arbutus marina is a broad-leaf, evergreen tree requiring minimal watering and care.
Olea wilsonii are fruitless olive trees that create little mess.
Carolina laurels have intense green foliage and they flower in the springtime.
Rhus lancea, or African sumac, are evergreens with long, sword-shaped leaves.
Ground Cover and Shrubbery
Myoporum makes a great lawn substitute. They are resistant to consumption by deer, they grow equally well in the sun or the shade, and they produce small pink flowers during the summer. Callistemon are midsized evergreen shrubs with red flowers, and coffeeberry bushes have dark, shiny leaves and red berries. Salvias and sedges are both pollinators that add a much-needed dash of color during a drought, and agave can add contrast and texture.
Choosing the Right Plants for a Drought-Tolerant Yard
Landscapes should be hardy, but they should also enhance the home they surround. Some residential lawns require more Lawn Care in Orange County, and customers should consider the following tips when making their selections.
Choose plants that are durable enough to stand up to heavy traffic
Consider plants with year-round appeal
Select plants with significant visual interest, such as purple grasses, manzanita, or arbutus
Making the Right Choices for Sloped and Graded Lawns
Most of California's developable land is situated on hillsides, and landscaping these areas requires much consideration. Most of this land borders on natural, wide-open spaces, and choosing native plants allows areas to regenerate while conserving precious natural resources. A landscaper will consider these factors when making an installation on a slope.
They will plant fire-resistant plants close to the home if wildfires are a concern
They will add native plants wherever possible to save maintenance, money, and water
They will add more showy plantings to enhance edges near pathways
Lawn Care Companies Can Help Customers Dig Deeper Into Drought-Tolerant Landscaping
Along with an increased awareness of the importance of water conservation is a significant amount of online resources devoted to drought-resistant planting. A quick Google search will yield a long list of fire- and drought-resistant plants, and the University of California's Sonoma Master Gardeners have created a list of shrubs, vines, and perennials that require little to no Orange County Lawn Maintenance.
In the past, customers assumed that knowing What To Plant In Orange County meant filling their yards with gravel and boring, nondescript little plants. However, the exact opposite is true. By following the above tips, choosing the right plants, and working with a landscaper who has a focus on conserving water and other resources, California homeowners can get a yard that looks great no matter how dry it gets.